Video from Markthal Rotterdam
If you like food and architecture, like I do,  then you won't be disappointed by the Markthal Rotterdam.
The Markthal is the first and biggest indoor food market in the Netherlands (opened in October 2014). I gasped the first time I saw it. Silly, right?, but it is that impressive. It is housed in a spectacular horse shoe-shaped arch, designed by Dutch architects MVRDV, which boasts 100 fresh produce units, 15 food shops and 8 restaurants.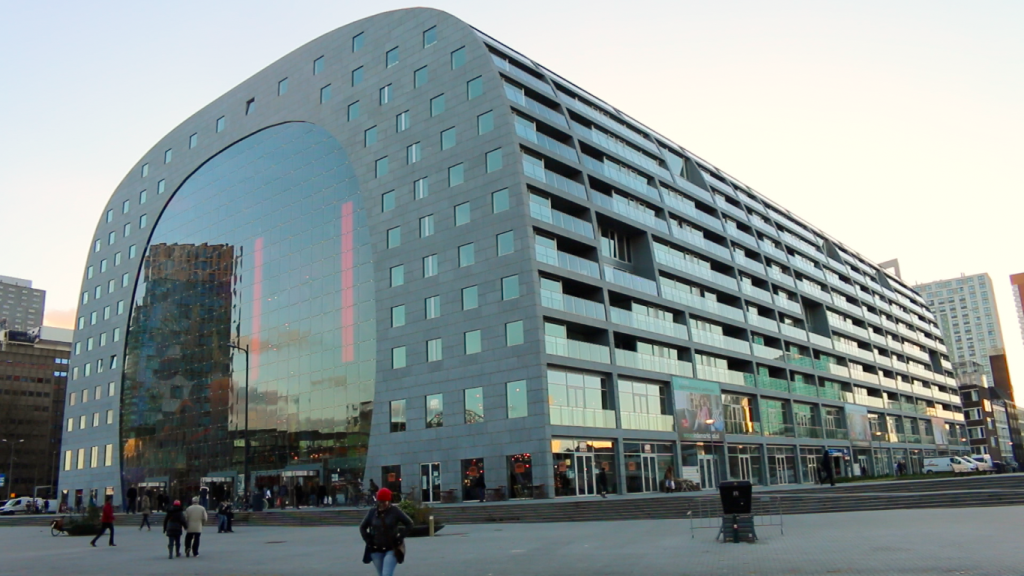 World's Largest Artwork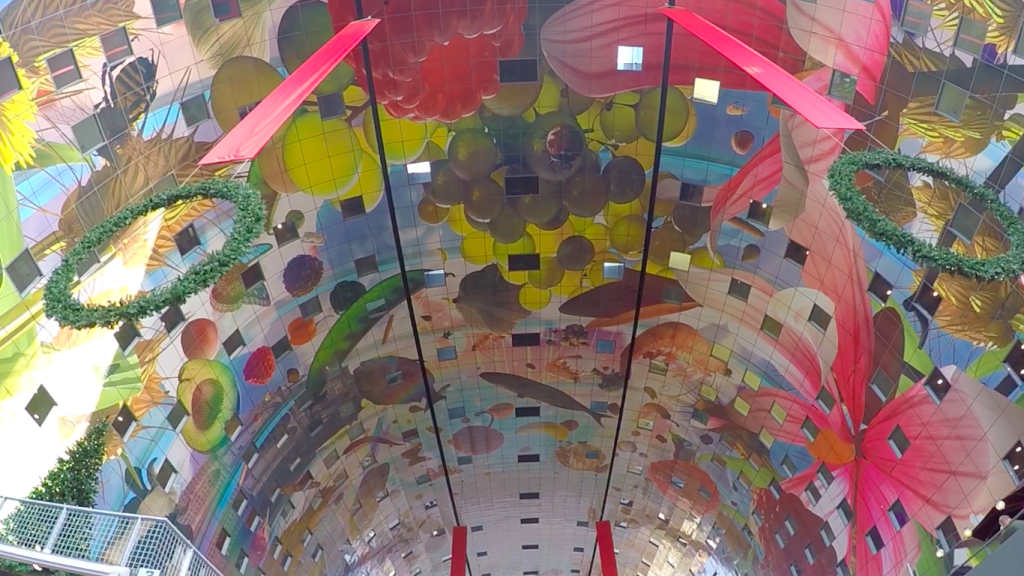 One of the highlights is the world's largest artwork called Horn of Plenty by artist Arno Coenen, which covers the ceiling area of 11,000 m2. I found myself staring at the ceiling on numerous occasions. Anything that can distract me from food has to be worthy and this artwork really is.
For more information go to the website: http://markthalrotterdam.nl/en/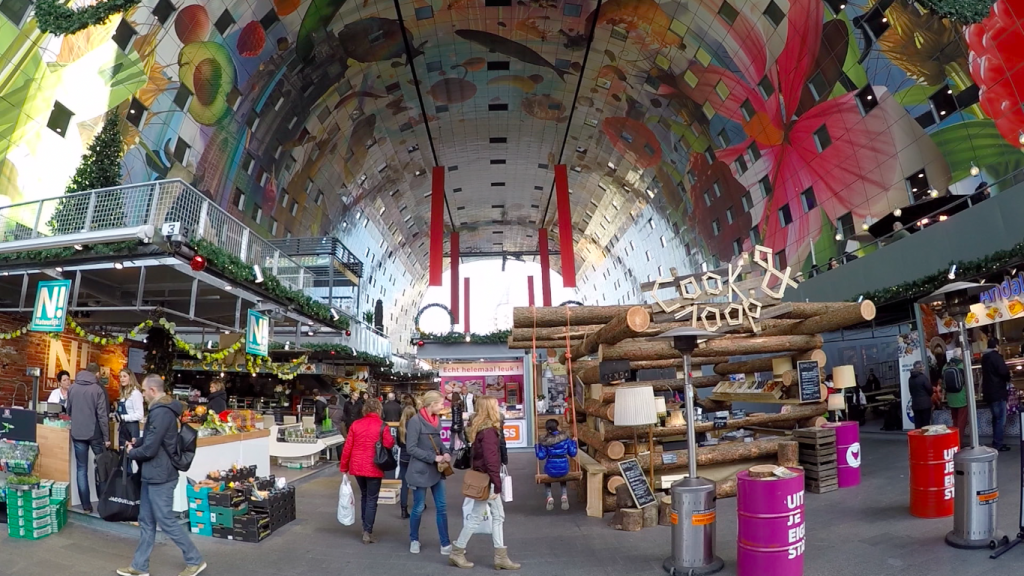 There are a number of cities in the world that are known for their food markets, including Stockholm, Barcelona, Valencia, Copenhagen. Many large cities have indoor food markets. With the arrival in 2014 of Markthal Rotterdam and De Foodhallen in Amsterdam, the Netherlands joins these world cities.
The Markthal is described as, "A lively market hall which is bursting at the seams with fresh fish, warm bread, tender meat, countless different cheeses and freshly harvested vegetables".
This place is a wonderful foodie heaven which has something to offer for everyone. I highly recommend a trip to Rotterdam to experience the Markthal.
Here is the transcript from the video:
Today we are in Rotterdam in the newly opened Markthal. It's the biggest food market in The Netherlands and I'm hungry. Here we go.
The Markthal has the largest artwork in The Netherlands at 11000 squared meters it's truly impressive. There's a massive selection of fruit and vegetables a lot of which we have never seen. No idea what they are. No clue. Absolutely none. Like this thing. No idea. So beautiful, the way they've display it.
There's a dizzying selection of products. If you suffer from choice paralysis, like I do, then this is definitely a challenging place. What to eat? There is a tapas bar here doing Pinchos. We're starting with Pinchos. Very hungry, so very happy to eat. Very hungry. Real good.
Above many of the stalls they've got these like roof terraces where the views are just magnificent. We're sitting at one of the roof terraces. We're having a delicious fish soup with some fresh bread.
There's an amazing Patisserie doing a selection of desserts that are so artist and beautiful. We've taken macaroons, I've got the chocolate you've got the salted caramel. Lekker, huh? It's really good. Say "Lekker". It's Lekker.
It's pretty cool. That's it for our time at the Markthal in Rotterdam.
It's amazing. It's big, there's a huge variety of food, a lovely atmosphere, the artwork is magnificent. If this is your only reason to come to Rotterdam, it's well worth it. Highly recommended. We're full now so we're going to go home.