Kerala Blog Express: An Amazing Experience
"Yes, I won! I'm going to Kerala in India as part of Kerala Blog Express"
In early Dec 2015, I saw an online competition from the Kerala Tourism board which offered a two week travel blogger trip to Kerala (http://keralablogexpress.com/), the South Western province of India. I knew that this was something for me and suddenly it was my dream to visit Kerala.
I visited India for the first time in 2013. It was a two week work trip to Bangalore, the capital of the Business Process Outsourcing (BPO) industry. It turned out to be a wonderful trip bursting with cultural experiences, food and an unforgettable chance meeting with the Dalai Lama (I kid you not). Despite being overwhelmed, I still had the good sense to take a few photos and a little video. Sadly I was not yet that good at making videos, so the below was all I was able to achieve at the time.
My prior experience of India left me with a yearning to return to India.
I've always been fascinated by different cultures and the Indian culture has captivated me for as long as I can remember. There are three aspects of Indian culture that really appeal to me, the food, music and dance. My main objective during the trip will be to experience all of these things and hopefully discover some additional aspects which I haven't yet thought of.
Being a travel vlogger (I make vidoes), I will be taking footage throughout the trip. I will also be tweeting and posting on Instagram. I invite you to following along so that you can discover this amazing part of the world with me.
How to win a blog trip
Whenever someone wins a competition, I always want to know how they did it, so I thought it may be interesting to show you some of the things that I did.
Being a blogger, it is no surprise that I took to my social media channels. I sent out the following call to action a number of times throughout December.
"Please vote for me to win a travel blog trip to Kerala, India:
Vote here: http://keralablogexpress.com/user/single_participant/691″
During the voting, the Kerala Tourism Board enabled video to be embedded into the candidate profiles. I immediately used the extensive travel footage that I already had and combined it with some new footage which I took during another shoot, to come up with the below video. I think this helped to show how quickly and to what quality level I could produce content, but also helped voters connect with me in a more personal way.
I also created a couple of pictures with some of the thumbnails from previous videos, which I used on Instagram.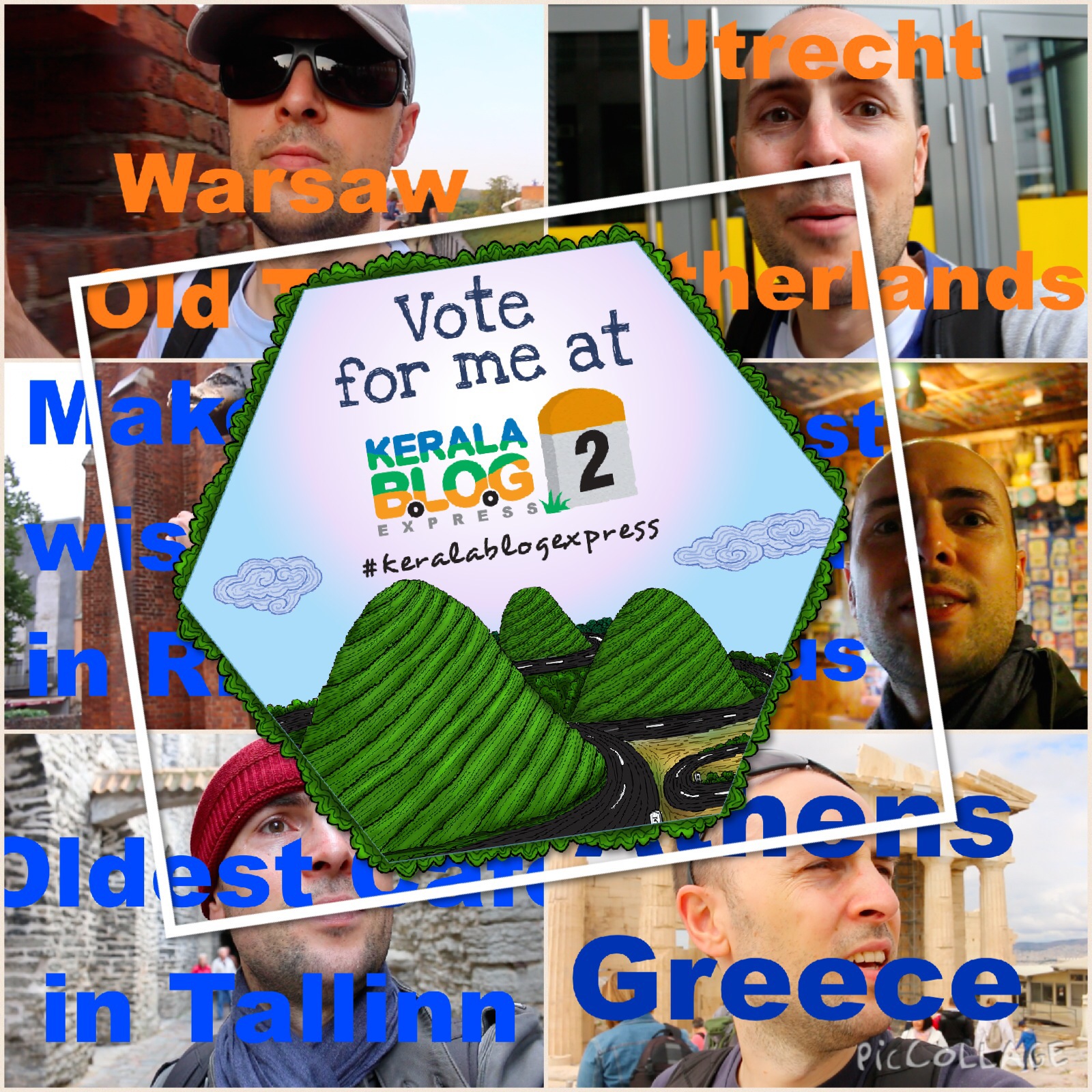 The moral of this little story is that sometimes in life you have to put yourself out there and take a chance and who knows, you may find yourself on a once in a life time trip to Kerala, India with 30 other travel bloggers.
How many votes
After all the voting was done, I managed to amass a whopping 585 votes. An amount which I couldn't have imagined. I am so humbled and grateful to everyone who voted for me. This is truly one of those times where I can sincerely say that I couldn't have done it without you.