Chef's Podium: A new breed of restaurant embracing the sharing economy
Chef's Podium was set up to achieve two goals; to give chefs absolute freedom to explore and share their culinary creativity (liberating them from the monotony of set menus) and to democratise the experience of eating great food and drinking great wine by making it very affordable and accessible.
Chef's Podium believes that the element of human connection has been effectively removed from the ritual of eating, and they are trying to reintroduce this human interaction back into the dining experience. The chef visits every table to explain to the diners what dishes he will be serving that evening. Explaining the background and the decisions he's/she's made in determining the menu that they will be having.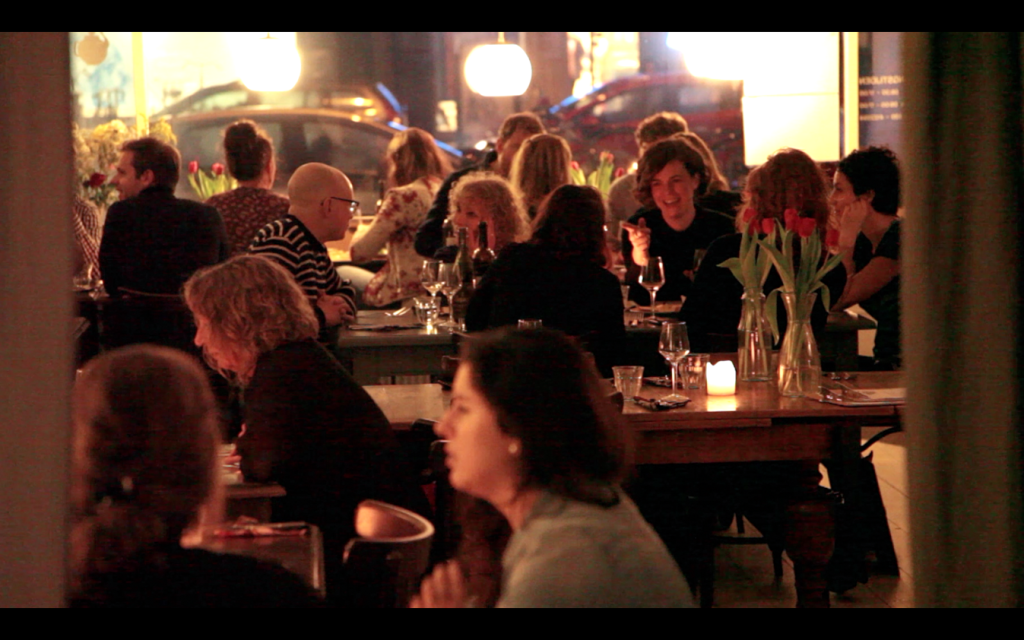 Instead of renting a space, Nimrod Kahn and Marc Schoorl, started their new Amsterdam restaurant, 
Chef
's 
Podium
, in Rue de Sevres, a lunch cafe on the Jan van Galenstraat, in Amsterdam West's Bos en Lommer neighborhood.
Bustling with coffee drinkers and pastry eaters during the day, Rue de Sevres closes at 17h00 and reopens at 18h00 (Thurs-Sat) as Chef's Podium – a dinner venue with one freelance chef each night, who cooks mostly local, always seasonal food. The menu also changes each night depending on the ingredients avalaible to the chef.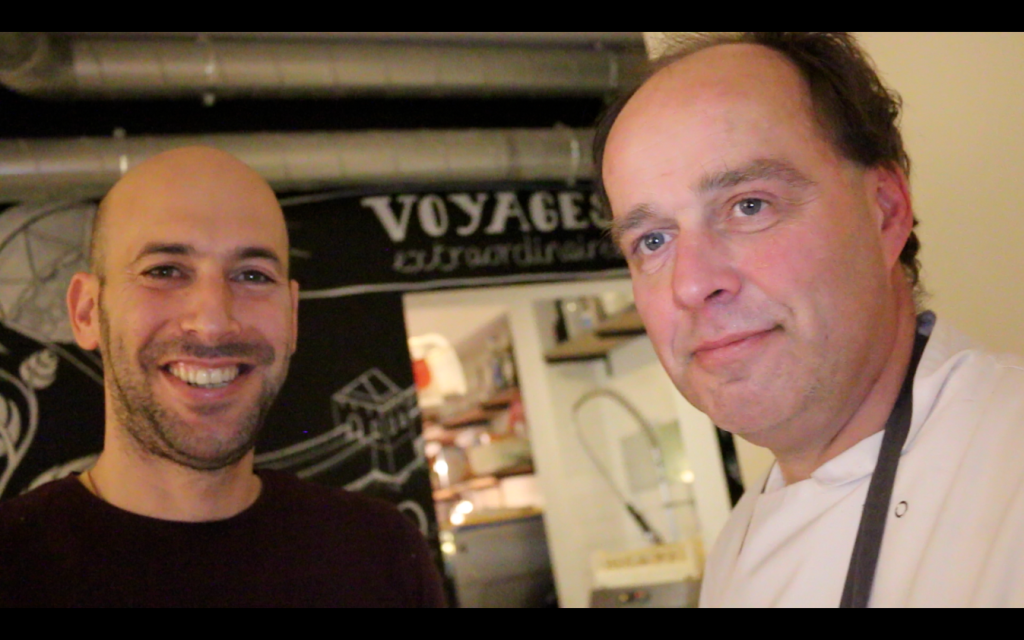 Nimrod and Marc started Chefs' Podium to achieve two goals: To democratize the experience of dining out for a superb three-course meal by serving everything at low prices (€20- per person and wine is €2.5- per glass) and to give the enthusiastic chef's absolute freedom to express their culinary creativity. Unrestricted by set menus or a specified cullinery genre, the three chefs can make anything their heart's desire, with one caveat: The chef's can't choose the ingredients.
Every week Marc and Nimrod buy a large box of fresh, seasonal fruits, meats, and vegetables, which despite their top quality, are sold at lowprices because of their seasonal abundance. No cans, no powders, no chemicals, no plofkip – just fresh, wholesome ingredients.
Because they can't choose the ingredients, the chefs explore the possible combinations of what's presented to them. The limited options afford them the freedom to use their creativity. Each night, the chef makes his own menu that includes an appetizer and a main course (always with a great-tasting vegetarian option), while their host café, Rue de Sevres, prepares the fresh desserts and coffee.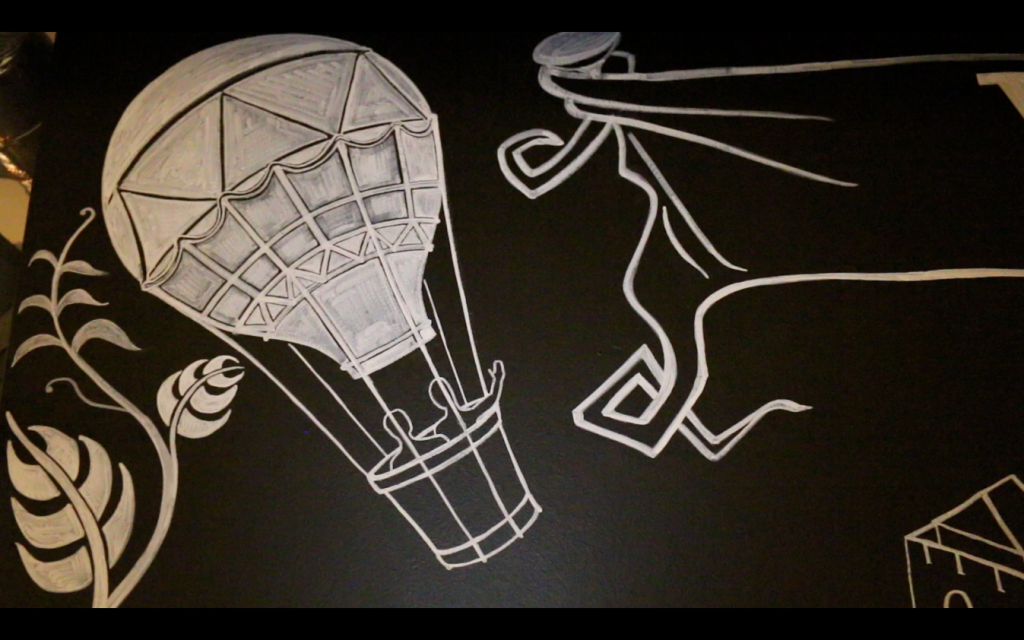 Creative dishes spark conversation. Curious about an esoteric ingredient or an unfamiliar flavour, customers expect some explanation, a reason or a story, so the chef visits each table to describe the meal and explain the decisions he or she has made. "It's extremely important to us that every table interacts directly with the chef who cooks for them", Nimrod says. "Cooking and eating involve a lot of personal memories and associations that the chef and our guests can share with each other. What was the chef's thought process while he/she made the dish and what was the guest's experience of eating it?"
"A chef should always have a reason for decisions he/she makes while cooking," Marc says. "To be a good chef is to be aware of why you combine certain ingredients. What are you trying to capture and convey in your cooking? Chef's Podium gives chefs a chance to explore and reveal themselves and their abilities. And it gives our guests the rare chance to enjoy new dishes without getting suck with a big bill. It's almost as cheap to eat here as it is to eat at home!"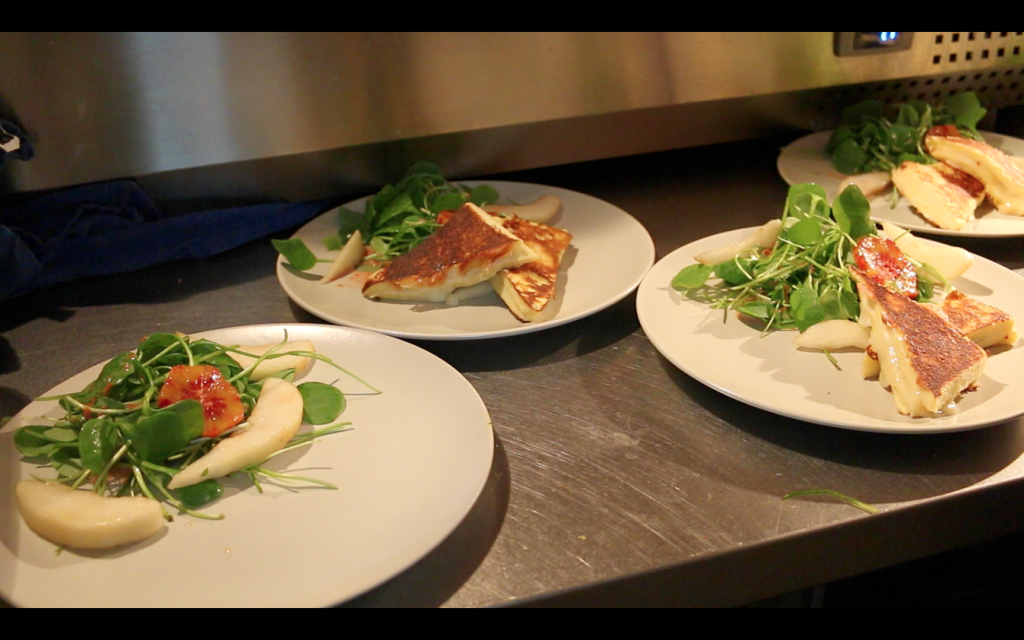 The business model of Chef's Podium is full of political conviction: Great fresh food for everyone, made possible by the sharing of space and using (mostly) local ingredients. The restaurant is self-sustaining, but with such low prices Chef's Podium will need to open more locations to make any profit. Finding coffee house owners who are eager to share space with Nimrod and Marc is no challenge they say. "It's a great deal for me," says Mijoux Haneuse, the owner of Rue de Sevres. "I'm selling more coffee and desserts than ever and I don't have to pay an employee to do it for me! And I love the extra attention that Rue is getting. It's fun to see my little French coffee house turn into something totally different at night. It's like watching my child grow up and do nice things that I didn't teach him to do."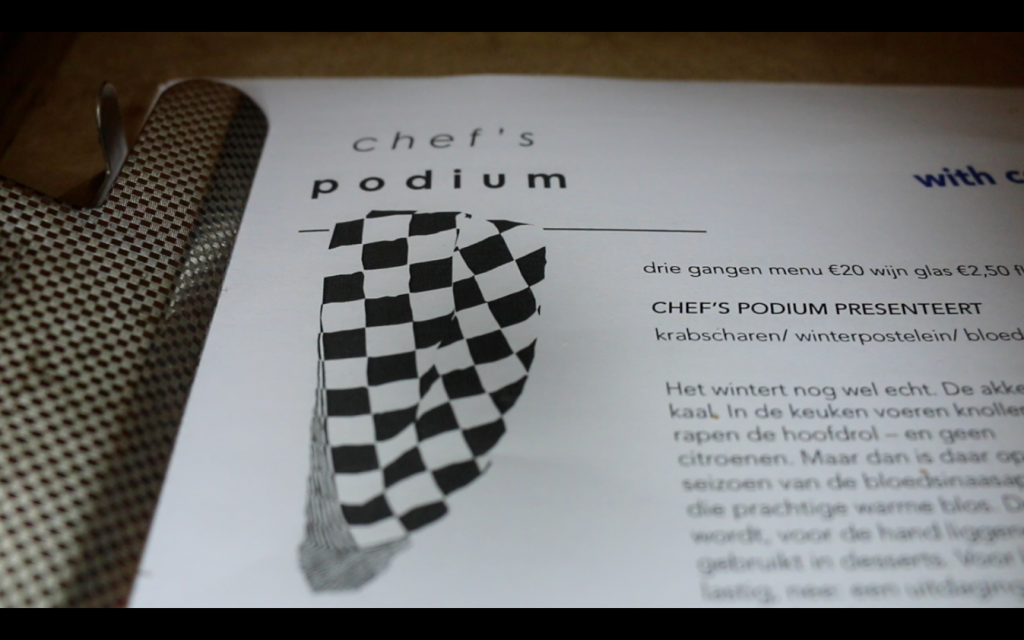 Chef's Podium is open Thursdays, Fridays, and Saturdays from 18:00-23:00. The address shared with is Rue de Sevres is Jan van Galenstraat 92HS, Amsterdam West. More information is available on Chef's Podium's Facebook page www.facebook.com/chefspodium. For any other questions, please contact Nimrod Kahn (nimrodkahn@gmail.com) or Marc Schoorl (marcschoorl@gmail.com). For reservations, please call 06 3457-6243.